Premium European merino wool shirt that can be worn in a formal way with a jacket or in a casual style on your Sunday jeans....
Premium European merino wool shirt that can be worn in a formal way with a jacket or in a casual style on your Sunday jeans. It's Merino fabric will keep you cool when it's hot and warm when it's cold. And you don't have to worry about wrinkles or odors.
Materials
100% superfine merino wool (17,5 micron), 160 g/sq meter
The buttons are made of Corozo, a hard nut from the tagua tree.
Sustainability
Our merino wool is mulesing free and is ZQ certified.
Production
The merino fabric is made in Italy.
The shirt is made in Portugal.
Size & fit
Fittings
Sli

m

: Our modern, tapered fit. Also, our most popular fit.
Relaxed: A more traditional fit with extra room in the chest, arms, and waist.
Our model Sebastiaan is 185cm high, 102 cm around the chest and wears a large slim fit.
Use our easy size tool to find your size. Please note that the shirt can shrink from 1 to 3% overall.
We use total easy care merino wool
Wash cold at 30°C delicate program, maximum 1400 cycles.
Wash with similar colors.
We advise to put the shirts in a wash bag.
Do not use fabric softner or bleach, we advise to use wool detergent.
Hang to dry, do not tumble dry. Avoid unnecessary exposure to direct sunlight to maintain an optimal white. Wear the shirt as any other shirt but don't dry it in direct sunlight and store it in your closet.
Iron at low temperature, no problem to use steam. Hot ironing may cause yellowing of the shirt.
More specific care tips at our garment care page
White merino wool, an exceptional quality.
A white shirt is obvious, but white wool is not. No sheep has one hundred percent white wool. It will always contain some grey fibres. These fine fibres all have to be sorted out. But even then, the wool is not entirely white but a bit cream-colored. That is why our white merino fabric is so exclusive. 
Our Italian weaving mill also spins the yarn, and they even have their own farms where the sheep graze. That gives them complete control over the whole process. It starts with the selection of the whitest wool. Then follows a delicate process of sorting, after which the wool is washed and finished according to the strictest environmental standards. Without compromising the original qualities of the merino wool. The spinning, weaving, and finishing of the white wool is done in a separate production hall to avoid contamination with other colours.
 As with the other colours, you can enjoy all the advantages of merino wool in the white shirt. You don't have to worry about odours or wrinkles. This shirt will keep you warm when it's cold and cool you down when it's hot—a perfect match for your on-the-go lifestyle.
 Since wool is a natural product, it can yellow slightly over the years. A bit like a cotton shirt also becomes less white over time. Extreme heat and UV light have can speed up this process. Wear it like any other shirt, but iron it on low temperature, don't dry in direct sunlight, and store it in your closet.
Merino wool, the perfect 4 seasons material
It's natural. It's renewable. It's durable. It's stunningly comfortable. And it outclasses cotton or synthetic fiber on any level. Yes, Merino Wool ticks all the boxes. Oh, and did we mention it's wrinkle resistant, not affected by body odor and temperature regulating in every season?
Discover more
Corozo buttons, sustainable and responsible
We use Corozo buttons in our shirts. This 100% natural and practically indestructible nut comes from the Tagua tree – otherwise known as vegetal ivory.
Discover more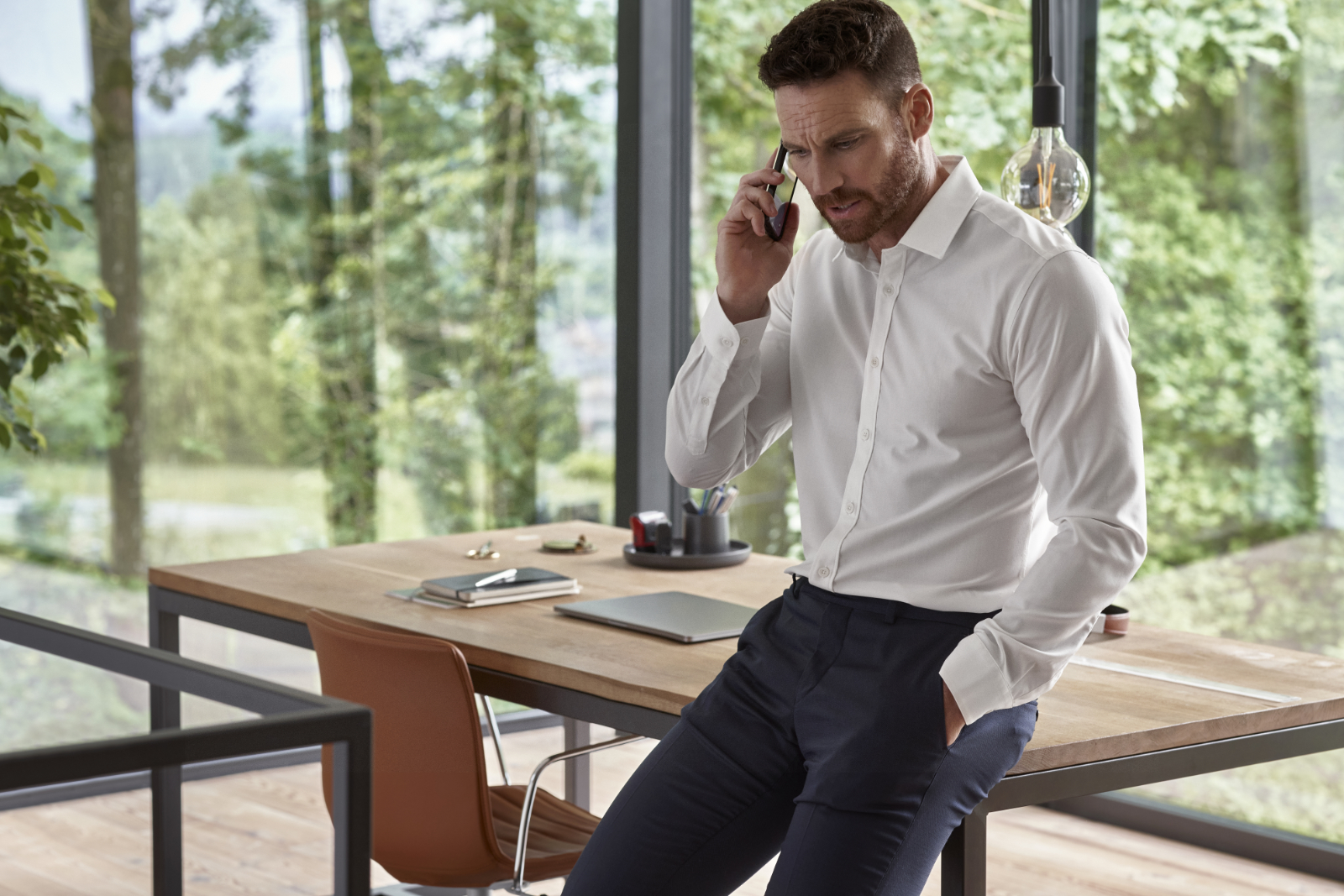 Proudly made in portugal
We are very proud to work close with the best material and clothing manufacturers in the world. We make our clothes in Portugal and we source our fabrics from Italy. By concentrating the production in Europe we can minimize our footprint and support the local economy.